In my first matchup against a girl this year, as in my first matchup against a girl (
or so I thought
) last year, I was
spanked
.
This time, it was at the hands of Paula from Paula's Playground in payback for the mild spanking I gave her last year as I escaped by the
skin o' my teeth
. This time, it was I who received the mild spanking.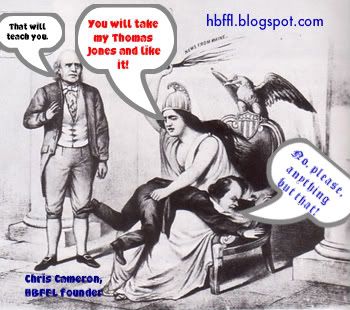 Yes, this Thomas Jones:
He had 22 carries for 210 yards, plus one touchdown, but the Jets still lost. Paula didn't, though, as he gave her 33 points (which he then passed on to me in a manner of speaking)! Add Owen Daniels' 19 points and Larry Fitzgerald's 21 points, and what you have is what you see above.
Me? I ignored Rule No. 326 of fantasy football: After making a trade for big players, play them, at least if they're healthy. Last week I received Steve Slaton, Tim Hightower and Jerricho Cotchery in a trade for Steven Jackson, Derrick Ward and Chad Ochocinco to
Renal Failure
. Cotch was injured, but I only played Slaton...
...if only I had played Hightower instead of Sammy Morris and Steve Breaston instead of DeSean Jackson (although in this case, I think I erred in good faith), I could have defeated Paula 132-130 and played this song again:
Next up: another girl, Allison from
Tales from LaLa Land
and Team Duckgirl, in a battle at the bottom of the HBFFL barrel.